I didn't put a tree up this year.  I couldn't deal with it.  Just the idea of driving 35 miles to our storage unit in Auburn to get the tree (have you heard that Seattle has been paralyzed by snow?), and then shoving all the boxes we've already packed out of the way to put it up — only to have to pack everything back up again while we're in the middle of packing up the house to move… It all felt like too much. Besides, we were spending Christmas Day at my Mom's house anyways. Don't get me wrong, I'm like a kid when it comes to Christmas, but I'm also under-rested, overstressed and I have a living room full of boxes. Once the baby comes, we'll decorate no matter how tired I am.
Christmas morning I woke up to this:

While I was taking a nap on Christmas Eve, Mr. H braved the snow and hiked to the nearest drug store to buy their last box of lights and a few other items.  After I fell asleep that night he wrapped the lights around the tripod easel, added in a trio of stuffed animals, two chocolate bars, and topped it off with a tiny stocking that contained a beautiful pair of earrings.
My guy is such a romantic.
What touched your heart this holiday season?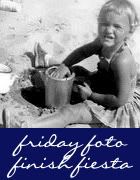 This is my contribution to Candid Carrie's Friday Foto Finish Fiesta